The latest news, trends and insights from the team.
Red Flag Global wins prestigious Platinum Award for 'Call Russia' public affairs campaign

MONDAY, 17 OCTOBER, 2022.
Red Flag Global won a major award for a worldwide campaign to combat Russian misinformation over its invasion of Ukraine.
Red Flag collected the highly prestigious global Public Affairs award from PR NEWS at the industry-leading Platinum Awards gala event in New York in October for its work on the Call Russia campaign.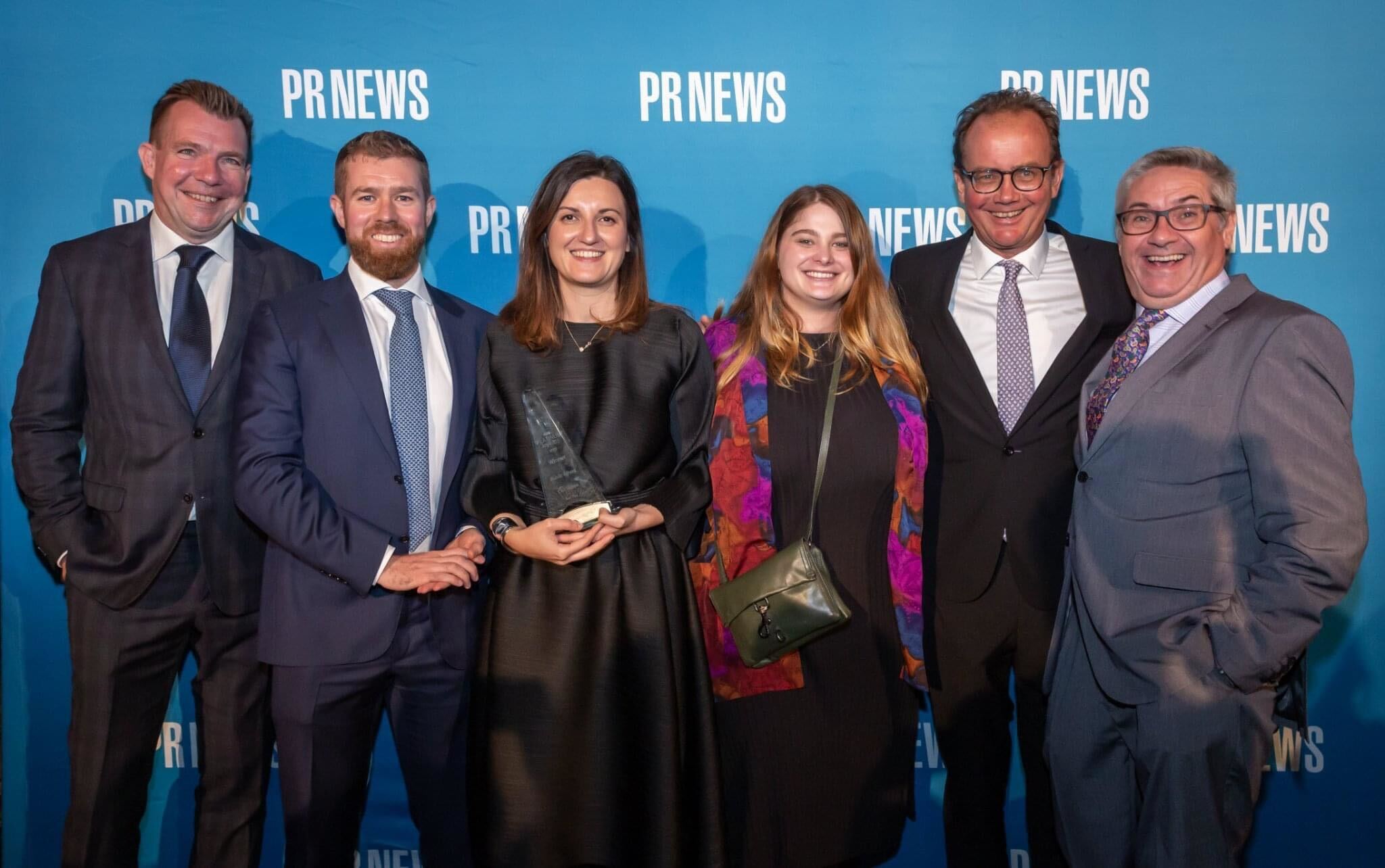 From left to right: Karl Brophy, Red Flag CEO, Seamus Conboy, Global Head of Client Services; Sonia Staicu, Account Director; Colleen Gurneier, Account Manager; Simon Kneel, General Counsel and Garret Doyle, Chief Operating Officer.
Call Russia encouraged Russian speakers all over the world to use a database of 40 million phone numbers to make direct contact with people on the ground across Russia and tell Vladimir Putin's citizens the truth about his war.
Responding to a request for assistance from Ukrainians as well as Call Russia founders in Lithuania, Red Flag rapidly mobilised a team of highly skilled communication professionals across several continents in the days after Russia launched its brutal war of aggression.
In the space of 48 hours, Red Flag helped recruit 49,000 volunteers in 149 countries to take individual action against the illegal invasion of Ukraine.
Working pro bono, the communications firm created multilingual assets, engaged media directly and designed a dynamic social media strategy as Ukrainians fought back the initial assault on their capital, Kyiv.
There was a global launch of the Call Russia campaign which encourages Russian speakers all over the world to use a database of 40 million phone numbers to make direct contact with people on the ground across Russia and tell Vladimir Putin's citizens the truth about his war.
As access to media was cut off in Russia itself, Red Flag ensured high-priority media in Europe, the USA and beyond had constant access to the initiative's organisers and volunteers. Top-tier coverage appeared near-simultaneously in global media and markets with large Russian-speaking diasporas including Germany, USA, Lithuania, Poland and the UK through Red Flag's 24-hour newsroom.
More than 800 top tier global articles and news reports reached an audience of 1.7 billion people over a span of just four weeks including in CNN, BBC, CBS News, Reuters, Associated Press, Agence France-Presse, RTL News (Germany) and several Irish media outlets.
This was complemented by a guerrilla and opportunistic social media strategy which saw content shared by, amongst others, Richard Branson, former commander of the International Space Station Scott Kelly, Atlantic writer and Ukraine expert Anne Applebaum and Ukrainian government advisor Liubov Tsybulska.
The campaign has already resulted in 175,000 calls made to Russia with volunteer callers reporting that Russians, while sometimes hostile, are becoming increasingly open to hearing the truth about the war. Volunteers say that approximately half of the calls they make are "positive".
"We immediately recognised that the concept of Call Russia, introduced to us by Paulius Senuta of Lithuania and his coalition, was brilliant. But we also knew that it required huge global coverage to recruit the tens of thousands of volunteers required to make it a success," said Red Flag CEO Karl Brophy.
"This was the most important campaign we have ever run in the near 10-year history of our company and we had no hesitation in devoting an entire team, led by our Head of Policy, Melissa San Miguel who did not sleep for days, to the effort.
"The recognition from the biggest global names in our industry last week in New York was very gratifying but the metric we really cared about was the number of Russian speakers we could recruit with a massive global campaign to counter Russia."
Call Russia was co-created by Not Perfect Vilnius and the 15 Min Group, supported by a global network of professional volunteers across technology, advertising and communications. For more information, visit CallRussia.org/Eng and follow @CallRussia on Twitter.
Call Russia was a cross-continent project between Red Flag's offices in Dublin, London, Brussels, Washington DC and Cape Town.